Projects
Digital Active has created web-based applications and websites for a variety of organizations. With our ActiveCMS content management system groups can efficiently manage and automate their website content. Our ActiveOffice CRM and ERP systems provide collaborative tools that connect a variety of organizations. The following pages offer just some of the organizations that use Digital Active everyday.
The American Academy of Pediatrics (AAP) launched an online initiative, the "TEAMS" project. Through the TEAMS project, the AAP provides training, resources, and technical assistance to school districts that are interested in strengthening policies and practices related to school health services. The project included ActiveOffice software to develop the tools that allow health professionals, pediatricians, and school health workers to collaborate in discussion forums, webinars, and assessment tools. The project included the TEAMS public website: schoolhealthteams.aap.org.




Adams Outdoor Advertising (AOA), based in Atlanta, GA, is one of the country's leading outdoor advertising display companies. With offices in 16 Eastern U.S. markets, AOA's clients include national advertisers, who purchase campaigns across all 16 markets as well as regional clients, who advertise within a single market.
View Case Study Adams Outdoor Advertising Case Study (PDF)

The Big Ten Network chose Digital Active to develop and host their Customer Relationship Management (CRM) system. The system allows the network to respond to and track customer comments. The ActiveOffice system includes the ability to manage the information the viewers see in the contact form, leading to fewer complaints and a tremendous reduction in the time required for support issues.
View Case Study Big Ten Network Case Study (PDF)

The Healthcare Association of Michigan (HCAM) works with providers around the state to promote excellence in senior care. Digital Active developed its website, which includes a login area for members. While the public can access valuable information about the issues HCAM advocates, the value of membership is increased as the login area offers information and event registration for HCAM members.

The Atlanta-based Olympus Media LLC uses ActiveOffice to connect their offices in 10 states across the U.S.A. The corporate intranet serves as a hub for Human Resources, Sales, Accounting, Operations and Marketing. A mash-up with the inventory database allows the information specific to a billboard to automatically populate the Proposal Generator.

Page: 1 [2] [3]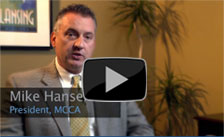 Digital Active clients speak about the advantages our online systems have brought to their organizations.
View Video

"We are thrilled with our decision to work with Digital Active for our website."
Marci Cisneros, Executive Director of Tourism, Grand Haven Area