Content Management
Web Content Management System
ActiveCMS provides powerful control over website content with an intuitive, easy to use design. With an intranet CMS, you can securely login to your site and instantly update web content without special software, expensive training, or the need for an outside consultant.

All you need is a web browser, we'll handle the rest.
No need to worry about installing ActiveCMS —we do that for you. We evaluate, integrate and test your web CMS on our servers and then share the login with you prior to going live. Your site doesn't need to follow a template in order to work with ActiveCMS. We can smoothly assimilate ActiveCMS with complex sites driven by databases and other applications.
We build an easy to use web CMS, but if you have any questions, we have a team ready to assist you in the upcoming days, months and years.
Enhance your site with these Site Tools by Digital Active.


Site Search


Allow your visitors to find information quickly and without wading through irrelevant results. It also helps you learn more about what your visitors are looking for!

Events Manager


Post your organization's events and calendar online. Our Events Tool gives you the control to post months in advance and can automatically remove the listing after the event date.

Photo Galleries


Publish your organization's photos or images directly to your site. Create different categories, add text and comments and thumbnails are created automatically.

RSS Feeds


Bring automatically updated information straight to your web site. Monitor news, blogs, job listings, personals, and much more.

Blogs


Combine text, images, links and more into your blog entries. Have the option to allow and manage commentaries from your audience.

Cyber Polls


Allow your visitors to quickly give their opinion on topics of your choice. All results are available online instantly.

Web Forms Manager


Know where your contact forms are being delivered. Track response time of your team and log all submissions for active tracking.

Message Boards


Communicate with people who share similar interests and trade ideas to discuss business or company topics in greater depth.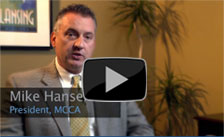 Digital Active clients speak about the advantages our online systems have brought to their organizations.
View Video

"… the online tools created by Digital Active allow us to communicate with our members and other stakeholders at a higher level."
Mike Hansen, President of the Michigan Community College Association