Custom Applications
Custom Web Applications
Digital Active doesn't believe in "shrink-wrapped" software. Your company deserves personal attention and custom web applications.
Your customers, clients, partners, distributors, vendors, members and staff can effectively access and share information with custom CMS and CRM systems which allows your business to run smoothly.
Digital Active can consolidate the flow of information through a secure-access website to help address your organization's unique needs. Our custom web applications are accessed through a standard web browser, which means there is no need to distribute or install software over multiple computers. Our systems can be deployed quickly and are easy to maintain and update.


We're built on a strong foundation.
Our business-specific applicatons are built upon the same proven, core technology utilized by all our applications, including ActiveOffice and ActiveCMS. This allows for faster deployment and reliability while reducing development costs. From large-scale projects that interact with legacy systems to less demanding projects that use a simple architecture, Digital Active has reliable, tested components that jump-start the framework of new systems.
Security


Your ActiveOffice can be developed within the same encryption standards used by financial institutions.

Accountability


View reports of user logins, changes, and other activity.

User Management


Enable users to see only areas of the system to which they need access.

Data Consolidation


Organize your data to allow easier access, collaboration, and reporting.

Cost Savings


Reduce the cost of software purchases, upgrades, printing and document shipping.

Return on Investment


Create efficiencies that save time, increase accountability, and reduce human error.

Disaster Recovery


We protect your data with the reliability of RAID and off-site backups.

To learn how we have provided the Active Advantage to our clients, view our projects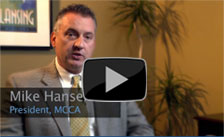 Digital Active clients speak about the advantages our online systems have brought to their organizations.
View Video

"… the ActiveOffice tools give us control both during and after the project."
Richard Karp, President Buildtech Ltd