Business Applications
Company Intranet Development
ActiveOffice is a web-based project collaboration system with modules designed to increase communication, efficiencies and accountability. As a company intranet, ActiveOffice allows secure access to documents, corporate calendars, sales tools, project management tools and more. It can be used as a CRM, ERP or customer service application.

The first step is planning
During the intranet development process, we look at the past, present and future needs of your organization. As your organization changes, ActiveOffice functions can be added to address those needs.
Simple to use
ActiveOffice has an extremely intuitive interface. The company intranet is based on user profiles; users have access to only the tools they use and are assigned. A user is not confused by areas not associated with them.
Cost effective
ActiveOffice offers collaboration at a fraction of the price of MS Exchange, Sharepoint server, or SAP software. ActiveOffice is web-based and simply requires a browser and internet access; this means low start-up cost and greater return on investment. Because the interface is so intuitive, little or no training time is required for users to begin working with ActiveOffice.
Safe and secure
Rest assured, loss of information is not a concern with ActiveOffice. Regular backups of your data are included with your package. With 256 bit encryption, the Active Office system is a secure method to share files that are too sensitive for email. Management determines the user's access level. Once a user logs into the company intranet, they may only access information allowed to them by management.
Easy implementation
We can have your ActiveOffice up and running within a few days, even sooner if necessary. After determining which modules fit your needs, basic customization and implementation can be done smoothly.
Continued support
When you need help or have a question, we have a team of knowledgeable staff ready to give assistance. We pride ourselves on real relationships with clients; our support goes well beyond the typical call center. Your company is unique and just as we customize your company intranet; we customize the support you receive too.

ActiveOffice Intranet and Extranet modules include:
Main Page Personalized Portal


Portal gives ustomized access to ActiveOffice modules, with personalized reminders, industry-related RSS feeds, and Company Announcements.

ActiveOffice Admin


Allows selected individual(s) to assign access levels to ActiveOffice users, including extranet clients.

Client Manager


The client manager can be used as an online address book for ultimate contact management control.

Sales Management


Increase efficiencies, track productivity and expand revenues. Track opportunities amongst your team and track win and loss data.

Project Manager


Web-based project management allows for easily accessible information about projects and online collaboration.

Calendar


Share group calendars for easy project scheduling with the convenience of a web-based, online calendar.

Secure Document Share


Online file storage and document management makes online collaboration easy.

Collaborative Discussions


Streamline your discussions with your team online and in an archived format.

Task Manager


Web-based module keeps track of personal and collaborative tasks.

Support Ticket


Create and assign support tickets to your team. Archive valuable data for efficient future problem solving.

File Transfer


Allows secure large file transfer without the pains of email. Assign file access levels to clients and staff.

Cyber Polls


Use opinion polls to keep staff and partners involved in decisions.

Billing Tracker


Compose and archive billable services with notices sent to your billing department. Reporting and graphs are available online, anytime.

GPS / Mapping


Satellite and RF based monitoring of fixed and mobile assets.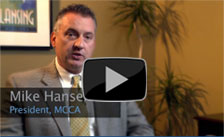 Digital Active clients speak about the advantages our online systems have brought to their organizations.
View Video

"… creative horsepower and brilliant technical expertise… They have been essential in our online success"
Lisa Shanley, Executive Director, South Haven Visitors Bureau