Projects [2]
Digital Active has created web-based applications and websites for a variety of organizations. With our ActiveCMS content management system groups can efficiently manage and automate their website content. Our ActiveOffice CRM and ERP systems provide collaborative tools that connect a variety of organizations. The following pages offer just some of the organizations that use Digital Active everyday.
The Hillsdale Community Health Center (HCHC) utilizes an ActiveOffice intranet and the ActiveCMS content management to maintain their website. "The Loop", HCHC's corporate intranet, serves as collaborative center for the various hospital departments. As HCHC continues to grow, the "Loop" helps track issues and keeps staff and management connected.
View Case Study Hillsdale Community Health Center Case Study (PDF)

SPEEDTV uses the ActiveOffice CRM tool to respond to and track viewer comments and concerns. The system is successful and has been expanded to the new SPEED2 offering. As the premier motor sports network, SPEED has seen tremendous growth and the ActiveOffice system continues to be a time-saver and has resulted in greater viewer satisfaction.

The American Academy of Pediatrics - Illinois Chapter web application assists families and pediatricians in identifying providers who work with children and young adults with special health care needs. The site, powered by Digital Active, features an advanced search function allowing families to search based on location, special needs, ages served and specialties.

The Michigan Community College Association (MCCA) website connects members, legislators and the public with the issues facing the advocates of higher education. Combining our ActiveCMS content management system with customized features to interact with members, the MCCA site has increased its memberships connection and reduced the amount of time required to manage web content and event registration.
View Case Study Michigan Community College Assoc. Case Study (PDF)

Page: [1] 2 [3]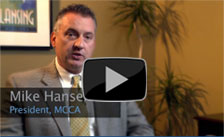 Digital Active clients speak about the advantages our online systems have brought to their organizations.
View Video

"… These guys have delivered everything they said they would. On time, on budget and it has always done exactly what they said it would."
Kevin Gleason, President, Adams Outdoor Advertising