Case Study: Michigan Community College Association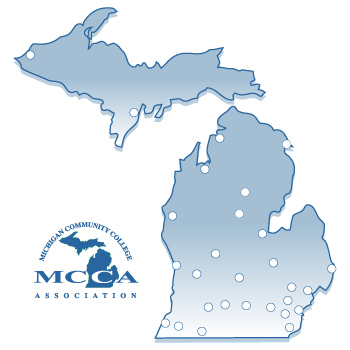 Overview
The Michigan Community College Association (MCCA) is the primary advocate for Michigan's twenty-eight public community colleges and provides leadership on issues facing the collective group while promoting the value of community colleges. Their web site, mcca.org, serves as a source for information and a collaborative tool connecting the association with its constituents, students and the general public.
Challenge
MCCA required a web site with content management. The previous site utilized Joomla, a Content Management System (CMS) to manage the web site. This led to inconsistent formatting and at one point the inability to update any content. MCCA also required secure-access areas where members of MCCA could gain information, register for events and post their own events for other members to attend. A primary challenge was to create a system where one login could manage all areas of the web site, manage event registration and allow interaction with members. A key concern was the ability to allow members to provide content to the web site without creating additional tasks for MCCA staff.
As the site is intended to represent the member colleges, some of the key design goals were to have a graphic incorporating photographs provided by the colleges and an interactive map featuring college locations and contact information.
Solution
Digital Active developed a web site for MCCA using our ActiveOffice Content Management System (CMS). This allows specific staff persons to make changes to the site, add new pages to the site, manage event listings, and track registration.
The design of the web site features an interactive map of Michigan showing the location and contact information of each of the member colleges. Colleges have access to "Employment Opportunities" to post job listings and review opportunities based on college or type of employment.
The design of the web site includes a dynamic 'header' featuring an animated series of photographs provided by the member colleges. The ActiveOffice system uses secure-access to allow members to add photos at any time. This tool uploads the photos into the animated series, eliminating the need for MCCA staff to manage the process.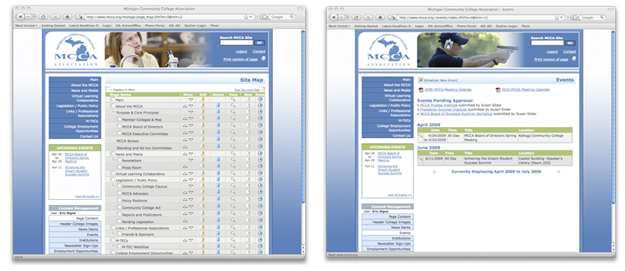 Solution Highlights
The web site and the associated functions allow for content and functions to be automated, reducing the time required by MCCA staff persons. The college members have secure access to the site allowing them to:
Upload header photos
Edit their college's contact information
View events
Register for events
Enter an event to be displayed within the site (with MCCA authorization)
Create and review job postings
The new system allows members greater interaction with the web site and reduces the duties of MCCA staff. The result is greater communication and collaboration while connecting with the target audiences of the organization.
"We are very pleased with the new and improved website. The overall feel and online tools created by Digital Active will allow us to communicate with our membership and other stakeholders at a higher level."
Michigan Community College Association