News

IgniteLansing returns with Version 2.0
Posted: August 17, 2009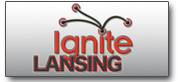 IgniteLansing 2.0
The popular Ignite Lansing is returning with IgniteLansing 2.0, Friday, Sept. 25, at the historic Temple Building in Lansing's Old Town neighborhood.

Digital Active Online Scores a Win with Big Ten Network
Posted: July 17, 2009
The Big Ten Network has signed with Digital Active Online to develop and host a Customer Service Application system. The Chicago-based network chose Digital Active Online over several leading industry solutions and we are happy to be part of their team.

Driving Tourism to Beachtowns.org
Posted: June 23, 2009
Digital Active Online announces the launch of the new Michigan Beachtowns website (www.beachtowns.org).
The website is the online presence of Michigan's Beachtowns Inc., an association of nine lakeshore convention & visitors bureaus. The site offers information each of the beach towns and links to the member websites. The site also celebrates an historic roadway that was the first continuous paved road from Chicago to Mackinaw City. The West Michigan Pike was completed in 1922 and opened west Michigan to automobile tourism.

Organization Leadership Program
Posted: June 10, 2009
From Todd Ross

As a proud member of the East Lansing Technology innovation Center (TIC) Digital Active Online enjoys access to a wealth of business resources. The folks at the TIC have been wonderful partners, so when Jeff Smith, Project Manager for the TIC, asked if I would to be one of three panelists in session on leadership I was delighted to contribute.

GetActive! the Digital Active Online Newsletter Launches
Posted: May 18, 2009

Digital Active Online launches the first issue of their monthly newsletter GetActive! In case you missed it, click here to view an archived version. You can get future newsletters using the sign up box on the right of this page. Topics include:
• Digital Active Online Launches MCCA Website
• Ignite Lansing
• ActiveOffice Feature - Automated Password Manager
| | | | | | | | |
| --- | --- | --- | --- | --- | --- | --- | --- |
| Page: | 1 | . . . | 13 | 14 | 15 | 16 | 17 |

Digital Active News RSS